Foodies with a weakness for Indian food may well be familiar with the ingredient known as ghee. A clarified butter (or butter which has had its milk solids removed), ghee has been an essential ingredient in the Indian kitchen for hundreds of years, most commonly as a cooking fat. In fact, ghee is the most widely used type of cooking fat in India and is an ingredient with a deep spiritual significance as well as versatility and suitability for a number of culinary uses.
One of the reasons ghee is so beloved by the people of India is that it is believed to be a sacred ingredient in Hinduism – one of the most popular religions in the country. Hindus believe that the cow is a holy animal – a provider of milk, sustenance and, therefore, of life. Consequently, ghee is incorporated into religious ceremonies and festivals dedicated to the Hindu deities.
In terms of its culinary use, ghee is a favourite cooking fat as it is ideally suited to high-temperature frying. The high smoke point of ghee – around 252 degrees – means that you can cook at higher temperatures without the fat breaking down, releasing free radicals and giving a bitter, scorched aroma to your kitchen and food. Additionally, ghee does not need to be stored in a fridge and when locked in an airtight container has a longer shelf life than regular butter.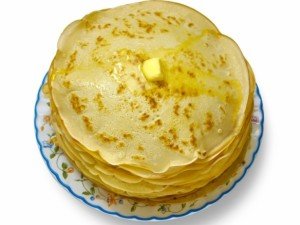 Although ghee is used in traditional recipes all over India, it is particularly prevalent in the northern states. Here you will find everyday dishes such as the spiced rice and lentil speciality, kichdi, eaten with a dollop of ghee. Often tasty flatbreads such as parathas and rotis are used to mop up the excess. It is also an essential ingredient in a range of sweets, providing the melt-in-the-mouth texture that confectionary such as barfi is famous for.
The state that is most notorious for its love of ghee might well be the Punjab – a region with a culinary tradition rich in opulent, luxuriant dishes, thanks to the influence of the Mughal rulers of old. To create those rich sauces and decadent desserts, dairy produce played a key role, and without a good dose of ghee, many of those famous Punjabi curries, such as murghmakhani or 'butter chicken', simply would not taste the same.
Although the more health-conscious amongst us might feel a little trepidation at the idea of using this saturated fat as a key cooking component, it must be noted that ghee does not contain hydrogenated oils and equally lacks lactose – great news for those with a dairy intolerance.
Ghee is a stalwart ingredient in traditional Indian food, but some of London's best Indian fine dining restaurants simply draw their inspiration from the classic dishes of the sub-continent, adding a little contemporary flair with a variety of exciting ingredients. Whether you are looking to indulge or stick to healthier choices, these establishments appeal to a wide range of tastes. Drop in soon to experience the authentic flavours of India given a modern twist for your delectation.